Digital advertisers are planning to up investment in Amazon expenditure as brands look to capitalise on its scale and user data.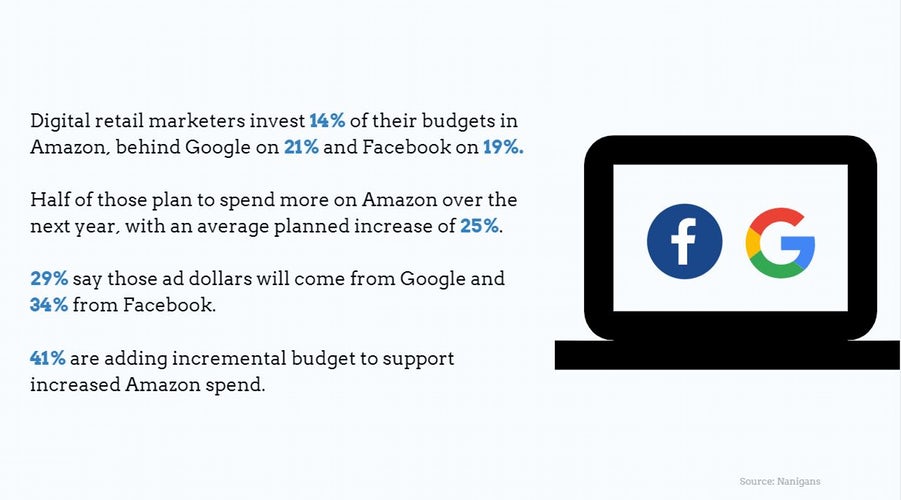 A survey of 100 digital advertising decision-makers at retail companies generating at least $50m in online sales annually, found that retail marketers estimate Amazon gets 14% of their digital ad spend, placing it third behind Google on 21% and Facebook on 19%. Half of those surveyed said they plan to spend more on Amazon over the next year, with an average planned increase of 25%.
The majority of this growth comes from marketers shifting budget, with 29% saying ad dollars would come from Google and 34% from Facebook. However, 41% are adding incremental budget to support increased Amazon expenditure.
The top three reasons for advertisers investing in Amazon are strong performance, size of the audience and being able to reach their target audience. Some 39% of respondents say they see higher return on ad spend than on Google and 54% than on Facebook. Plus, 32% report lower cost per mille (CPM) than Google and 38% than Facebook.
However, there are concerns. Forty per cent of marketers are worried about Amazon having too much of their data and 31% see Amazon's retail business as in competition with their own. Nearly half (48%) are worried consumers will be turned off by the ad experience with Amazon.
If you are interested, see my 7 part video series on selling on Amazon.
Thanks to Marketing Week